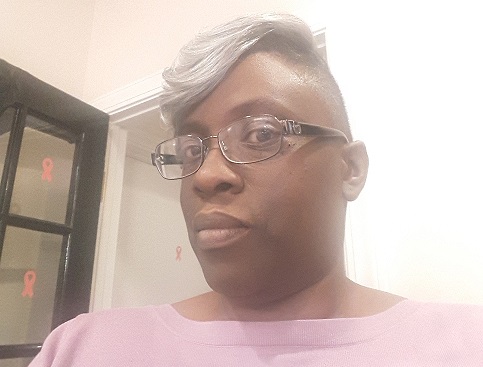 Get to Know Anita Ford Evans…

What brought you to Supportive Housing Communities (SHC)?

Before I came to Supportive Housing Communities, I worked for 11 years with the 4-H Program in Cabarrus County. 4-H is a national organization that focuses on developing youth. Within this general mission, my job was to teach students about nutrition and physical activity. While I enjoyed this work, I eventually realized that I would need to go back to school if I were going to rise any higher. So in order to advance my career, I started taking classes at a number of different colleges.

At Barber-Scotia College, I started a degree in Organizational Management. Before completing it, however, I transferred to Shaw to take night classes in Public Administration. One evening, my classmate Vanessa casually mentioned that I would make a great social worker because I was so good with people. That made sense to me. So I transferred again—this time to the social work program at Johnson C. Smith University (JCSU). It took a few tries before I knew exactly what and where I wanted to be, but once I started at JCSU, I knew that I was in the right school and the right profession.

How long have you been at SHC?

I first started at SHC in 2013 as a BSW intern through JCSU. Later that year I was brought on full-time as a case manager. In 2017, I became the lead case manager of McCreesh Place, and then last year I was promoted to Program Coordinator. In this role, I do a little of everything: case management, administration, and supervision.

What are your major accomplishments?

When it comes to helping the residents, their successes are all their own. I'm just here to assist them with accomplishing their goals. One thing we've accomplished together is the upkeep of the McCreesh Place Community Garden. I'm so glad to provide that activity for everyone.

Besides the garden, I'm also proud of an award I won while I was still a student at JCSU. While I was a student, I volunteered doing a number of different things: I played bingo with residents at a nursing home, adopted a family for Christmas, and conducted outreach to Charlotte's homeless population. I didn't know that the school was keeping track of all the time I spent serving the community. But they were—and I ended up winning the President's Volunteer Service Award as a result. President Obama signed the certificate.

Tell us about Brian, the resident featured in the January newsletter.

I've known Brian for a long time. You can tell right away that he has such a good heart. But only in the last two years did he fully blossom. That's when he came up with the idea of becoming a Peer Support Specialist. With this ambition, he became incredibly focused. Whenever I see him in the hall he runs through the list of things he's doing to accomplish his goal.

What's next for you?

My son graduates high school in six years, and I have some big goals that I want to accomplish before he leaves the nest. One goal is to complete my MSW—I'm actually in the process of applying to Winthrop's MSW program now. I also want to travel somewhere outside of the United States. Between going to school, raising a family, and working at McCreesh Place, I just haven't had the time to travel. Even if I can just visit the Bahamas for a weekend, that would be enough. I want to see the blue water and blue skies. My last goal for these next six years is to completely pay off my house—this will also help me have some extra funds for the trips I'm planning!

What do you do when you're not working?

I spend a lot of time helping out at the Cabarrus County Boys and Girls Club. I also set up activities for Black History Month. I don't have much time to organize or coordinate events for the organization, but the individuals who do plan those events can always count on me being a volunteer!

I also love arts and crafts. Some of my favorite things to make are T-Shirts, cards, and tote bags. In fact, I've made many bags for SHC staff members. You may have seen someone carrying one around.