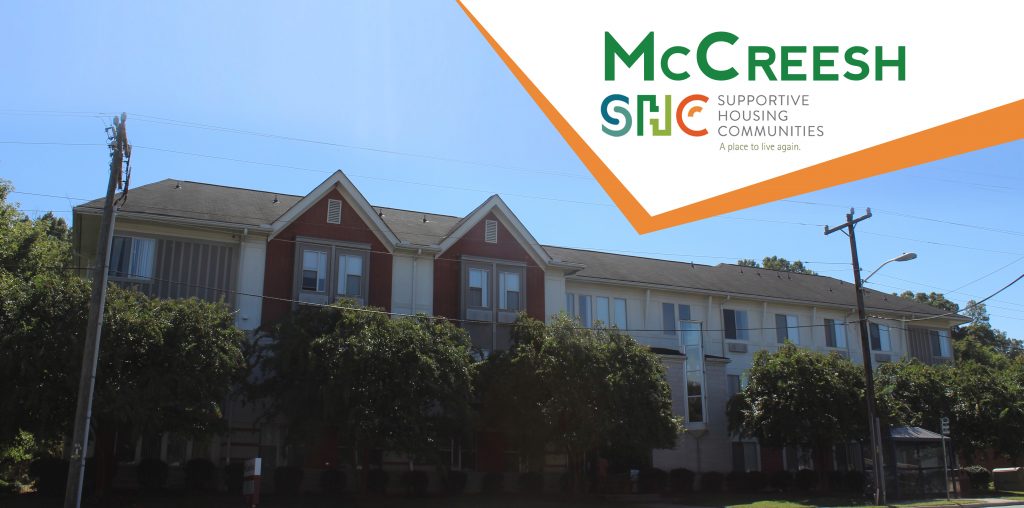 McCreesh Place
You've probably driven by McCreesh Place a hundred times. Located on North Davidson Street near Amelie's Coffee Shop, McCreesh Place is the home to 90 formerly homeless men and women. McCreesh Place was Charlotte's first permanent supportive housing complex and it is here to stay.
When SHC opened its doors in 2003, McCreesh Place included 64 single-occupancy units (think: shared bathrooms and kitchens) and was open only to men. Later, SHC added 26 efficiency units (with private bathrooms and kitchens) and, in 2016, opened McCreesh Place also to women.
McCreesh Place is a recovery-based housing model, which means everyone who lives there is in recovery from substance abuse and is committed to an abstinence-based lifestyle. (Qualification: we now have a few residents who choose abstinence but have no substance abuse history.) The community includes programs designed to support recovery. For instance, two evenings a week McCreesh Place hosts Substance Abuse Recovery and Prevention classes; and everyday residents enjoy the support of their case managers and each other.
Recovery in community works. The national relapse rate is estimated to be between 40-60%. Last year at McCreesh Place, it was 8%. If these statistics sound too good to be true, they start to make sense when you spend time in a recovery community. Most people who try to conquer addiction do so largely alone. At McCreesh Place, you have the constant support of your friends, housemates, and trained professionals. The supportive housing community makes all the difference. If you want to know more, come by for a tour.
Success Story
Herbert loves McCreesh Place for the same reason he decided to move out after a year and a half.
"I have been healed," he says.
With the modest income he received from disability checks, Herbert could afford to move into a place with his brother. His plan, which he has carried out for the past thirteen years, was to return to McCreesh Place to help heal others.