A Month of Independence, Growth and Kindness
Virtual Fundraising Event
Each year, Supportive Housing Communities hosts one of Charlotte's largest fundraisers, to share with over 1,000 community advocates, friends and family, stories of triumph from persons who have experienced chronic homelessness.
We are excited to announce that we're going virtual on Wednesday, June 23rd! This year marks the 10th year we've held our special fundraiser and this will be our largest as there's no limit on attendance! You're invited to join our special broadcast to celebrate our accomplishments, honor SHC heroes and learn how you can get involved in some exciting initiatives. Together, we can break down the barriers surrounding homelessness and make the dream of having A Place to Live Again a reality.
Get excited, spread the word and stay tuned for more information. If you would like to sponsor the event or donate in advance, please contact Jessica Williams at jessica@aplacetoliveagain.org for more details.
Event proceeds benefit SHC's mission to provide affordable housing to alleviate homelessness and human suffering. Financial support will also help us provide the wrap around programs and services that are imperative for our residents' growth.
McCreesh Place: A Story of Independence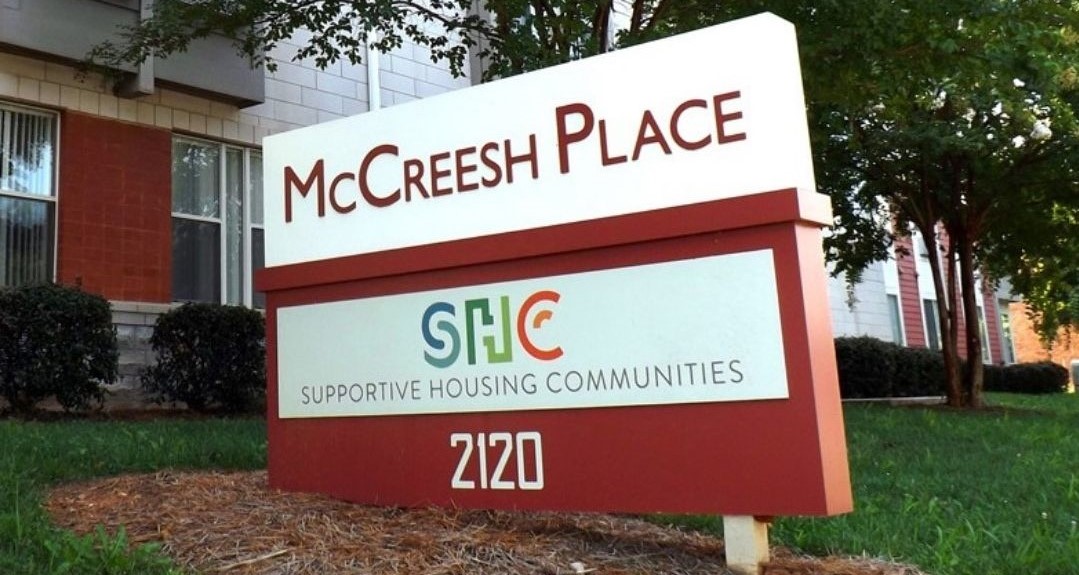 Mr. Vinnie became a resident of McCreesh Place in November of 2017. Vinnie is originally from Virginia and holds a Master's in Education. He worked for Bank of America, Goodwill and Central Piedmont Community College before his mental health disability took over.
He refused to connect with immediate family upon his entry into the program. He felt ashamed of his situation. Eventually, he felt comfortable accepting visits from his Aunt to assist him with his anxiety and social skills. Throughout his time at McCreesh Place, he was able to relate to a clinical therapist within the MAST team, where they addressed his mental health and anxiety. Vinnie met with his Case Manager on a weekly basis where she supported his desire to find ways to give back to the community. Community involvement provided him with a sense of independence and self-worth. Over time, Vinnie warmed up to the idea of allowing his mother to visit him during the holidays. Their relationship started to rebuild. His case manager conversed with his mother to help her understand his mental health and how it plays a part in people's daily lives.
Through continued support, Mr. Vinnie was able to allow the relationship to rebuild and decided in November to move back with his mother in Virgina. He is now connected with mental health services, medication management and enjoys spending time with his mother and other family members!
Mr. Vinnie stated, "If it had not been for SHC giving me a place to live again, I do not know how my life would have ended up. I thank my Case Manager/Program Coordinator for believing in me and giving me daily motivation. She worked daily with me and trying to keep me connected with wrap around services and building my self-esteem up. I thank Mr. Cori for being an additional support for me in the evenings and talking to me like a man."
Scattered Sites Program: A Story of Growth
Genie had her first child at an early age.  She was a child raising children. Over the years, she has had five children under the age of six-year-of age. As of now Genie has four of her children living with her and she is in the process of getting one of her children back. Over the year she has struggles being a parent by stealing food for her and her children in and out of jail. Living in shelters and hotels doing thing just to survive to take care of her children.
In the beginning of the program Genie was living in the hotel, when a report was made to the Department of Social Services for child neglect and endangerment. Doing this time Genie was expecting with her fifth child and was diagnose with Postpartum depression she just gave birth to her fourth child at the time was only four-month-old.
Genie worked with her YFS worker along with her Case manager and taking parenting classes and doing home visit to show that she was a great mother. Genie and her children embarked on what would consider a daunting journey towards hope and healing. Genie shows strength and determination to show that she was serious in working towards being a great mother. Genie and her children are doing well the children are happy and Genie is working and now in the process of looking for another apartment where her children so they can go outside and play and be safe in their neighborhood.
Property Management Team: An Impeccable Review!
On Thursday, March 18th, Ms. Phoebe Goldstein, from Heart Beat As One Foundation, toured McCreesh Place and left an impeccable review!
"On Thursday 3/18, I had the pleasure of receiving a tour of McCreesh Place from Charles in the Maintenance Department. I was immediately impressed by the cleanliness, the friendliness of the staff, and the overall ambiance of the property. The facility is immaculately kept and the attention to detail is something I don't see often in other buildings. Supplying the necessities for the tenants is obviously paramount, but access to things like gym equipment, art on the walls, and a library (things that are often overlooked) often provide a much needed outlet and make McCreesh feel like home. There's a level of hope you feel when you walk into McCreesh that I haven't experienced at other facilities and I attribute that in part to the passion expressed by Antwine, Angela, and Charles. It's easy to become somewhat jaded with the work we all do, but everyone at McCreesh has managed to maintain that spark and clearly take pride in the work they do…and they should. They've done a remarkable job with the property." – Phoebe Goldstein
Thank you to Ms. Goldstein and Heart Beat As One Foundation for your kind words as well as your support of our residents!
Your Gifts: A Story of Impact
This past year has been challenging for all of us. Yet, because of our generous donors, SHC has been able to continue providing affordable housing and supportive services to those most in need.  A huge thank you to all for your continued support!  Since January 1, 2021, our donors have contributed over $100,000  to help those who have struggled with chronic homelessness. Thank you to the following donors:
Albemarle Foundation
Gregory Underwood
Myers Park Baptist Church
Alex Boyer
Heather Drabenstadt
Myers Park Presbyterian Church
Alex Orvos
Humble Cup Coffee Co.
Nancy and Peter Covington
Alicia Morris-Rudd
Jameel Ables
Parth Parmar
Ally Financial
James and Claire Talley
Phillip Whitesell
American Honda
Jan Barefoot
Phoenix Fund
Anita Shaughnessy
Jane Hoffmann
Plaza Presbyterian Church
Ann Weber
Jeff and Londa Wilson
Public Consulting Group
Anonymous
Jeff Parker
Publix Super Markets Charities
Bank of America Foundation
Jennifer and Zack Bridges
Rachel Moreau
Barry and Nancy Metzger
Jeremy Chrisawn
Reagan Gilker
Beth and Marshall Collins
Jill and Fletcher Flynn
Renee Thompson
Brett Dupree and Maggie Will
John Clark
Robert Hammock
Brian Burden
Josh Wheeler
Robert Waegner
Brianna Markle
Katherine Nims
Royce Wolfe and Donna Harris
Britta Wakefield Mondi
Kathryn Blanchard
Rudolph and Natalie Brown
Campbell Wilson
Kathy Martin
Ryan and Shu Wei Baird
Charlene Hamilton
Kathy Pierre
Ryan Borg
Charlotte Mecklenburg Community Foundation
Kelly Clarke
Ryan Stonebrook
Clark Dean
Kim and Fernando Perez
Shelia M McGrail and Richard H Berry
Cookie Williams
Kristen A Allan
Sol and Joyce Kaufman
Crisis Ministry
Kyle and Melanie Crossen
St. Peter Catholic Church
Crystal Long
Louise L. Allred
St. Peter Jesuit Community
David and Alexis Lawrence
Lowe's Companies, Inc.
St. Peter's Hospital Foundation Inc.
David Lewis
Lynn Avampato
Stephanie Coulter
Dorinda Smith
Mark and Ann Marie Miller
Stephen Valder
Douglas Caldwell
Mark and Dawn Ryan
Steven Guptill
Duke Energy Foundation
Mark and Kriston Feldpausch
Surassawadee Fry
Ed and Sue Myrick
Mary Gibson
Thomas M Higgins, Jr.
Elizabeth and Kevin Carrothers
Matt and Jenny Martella
Thomas Ponsonby
Elizabeth and Nate Paynter
Matthew and Suzanne Churchill
Timothy Bendel
Emily Costigan
Melissa and Bruce Noll
Tom and Sally Moore
Emily Jones
Melissa Reman
Walter Hunter
Eric and Paula Safranek
Michael Ladd and Family
Warren Henry
First Presbyterian Church
Michael Marshall
Wells Fargo Community Cares Grants
Greg Miller
Mike Higgins
Whitney Harrigan
Greg Williams