Behind Our Mission: Tammy Baker
---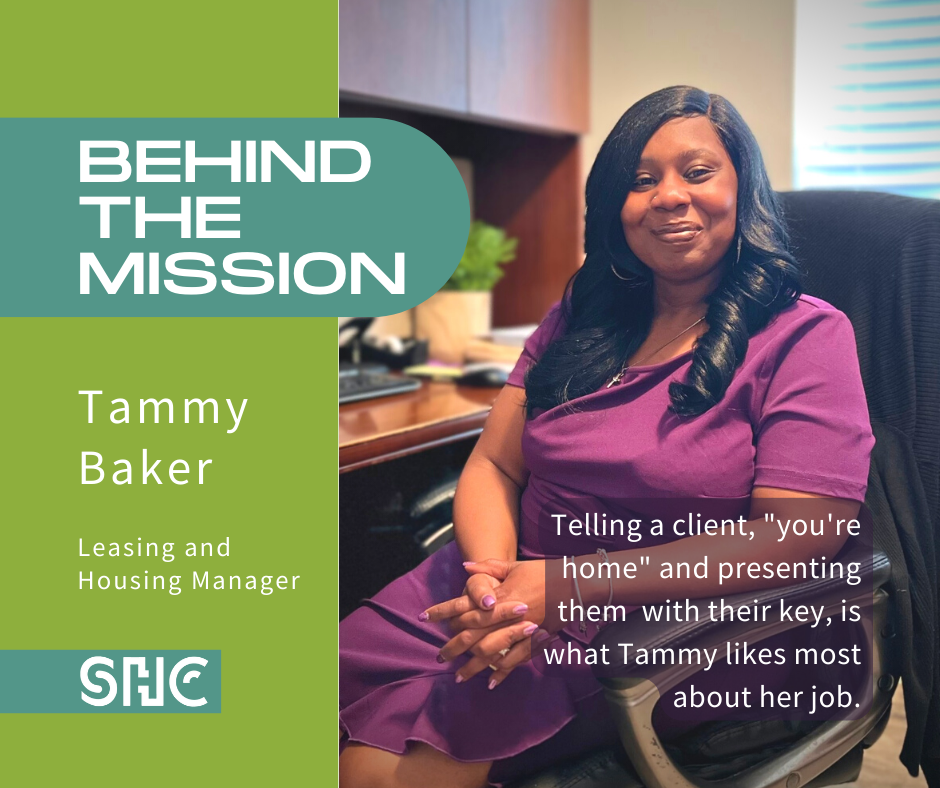 Tammy Baker was recently promoted to Housing & Leasing Manager after serving as one of our SHC Leasing Specialists for 4 years. She and her team are responsible for searching, scouting, and talking to landlords to find permanent housing for our recently homeless neighbors. This process also includes ensuring the unit is affordable and meets HUD guidelines. To get landlords interested, she highlights that along with case management services, we pay 70% to 100% in subsidy assistance, and in some cases, we can master lease a tenant (i.e., SHC signs the lease as the occupant/responsible party).
Move-in day is what Tammy enjoys the most about her job. "It's when you really get to hear a client's story. Some cry as they describe how long it's been since they have had a place to call their home." Presenting a new neighbor with the key, and telling them, "you're home." warms her heart. Two years ago a former client came into the program with no income and arose from barely being able to make ends meet to getting a job and then her own vehicle. Within the 24-month timeline, she made it to the point of being able to assume responsibility for her unit without needing a subsidy, and she exited victoriously from the program. "For us, that's a success story," Tammy shares.
Colleagues, clients, and, friends describe Tammy as a multitasker, generous, very helpful, and fast-moving. When it comes to fast-moving, in her free time, this boy-mom of three loves riding on her very own purple Honda CVR 600! In addition to riding motorcycles, she also loves cruises.
We value employees like Tammy that believe in what SHC is doing! Thank you for your commitment to our mission of providing affordable housing to alleviate homelessness and human suffering.