Behind The Mission: Carol Berry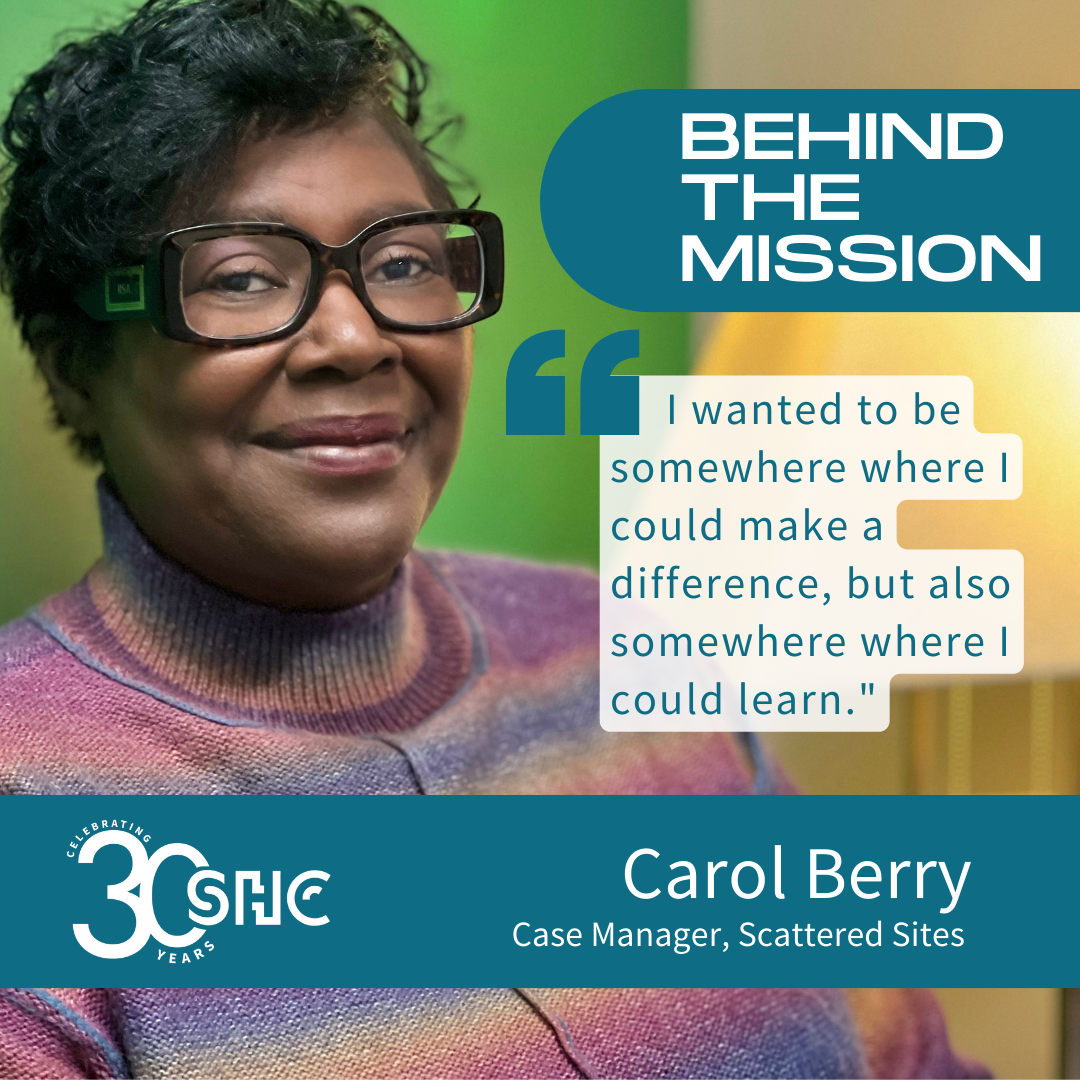 Carol Berry started her career with SHC as an intern over nine years ago. Since then, Carol has become a valued Case Manager and colleague to everyone at Supportive Housing Communities. Carol applies her experience as a teacher to her work in Case Management. Before working with SHC, Carol taught visually impaired children how to read Braille and do everyday things. "I really like to take my time with my clients," Carol says. "I think it's important to lead them, hand over hand, in navigating everyday life after experiencing homelessness."
As a mother to five – and a grandmother to seven – Carol has a great deal of experience in teaching and leading others toward success. She is mindful of where her clients have been and where they are now and goes out of her way to ensure her clients have the resources they need to gain and maintain housing. Whether her clients struggle with cleaning their homes or repairing buttons on their clothes, Carol prioritizes teaching her clients new things.
"When going to the food bank, our clients might be given ingredients they don't know how to work with," Carol says. "Sometimes our clients haven't cooked in a while, or maybe never learned. Sometimes don't know how to use the food they have. By giving them recipes and teaching them how to pull something together, they could learn a new skill."
As a Case Manager in our Scattered Sites program, Carol sees a great deal of the challenges our community faces. "For example, some daycare facilities require the parents to have a job before enrolling their children," she says. "However, in order to get a job and keep a job, most parents need childcare." However, Carol works hard to ensure her clients are able to achieve their goals and build stability in their lives.
When Carol is not going above and beyond for her clients at SHC, she spends much of her time with her husband, children, and grandchildren. She is also often learning new things or trying out new hobbies. From learning Hebrew to roller skating, Carol keeps an open mind to new experiences. 
When asked what she'd like her legacy to be, she simply says, "I'd like to leave my clients in a better place than when they first came to me."