Announcing New Board Member: Kim Graham
---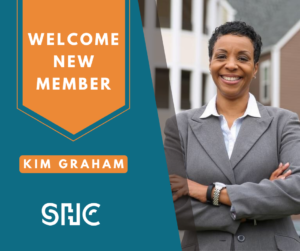 Kim Graham is Executive Director of the Greater Charlotte Apartment Association (GCAA), the leading voice and premier resource for the rental housing industry in the Charlotte region. Graham leads the largest apartment association affiliate in North Carolina boasting a membership of more than 800 apartment communities with more than 175,000 rental homes across an 11-county footprint that includes parts of South Carolina. The GCAA spearheads advocacy and public policy efforts, building strategic partnerships and overseeing the development of innovative programs to address the ever-changing needs of the regional apartment industry. Under Graham's leadership, the GCAA launched the A.C.C.E.S.S. (Apartment Career Credentials that Empower Students to Succeed) Program a collaborative workforce development initiative for graduating seniors with Charlotte-Mecklenburg Schools. Additionally, the GCAA opened an apartment careers exploration center for high school students in partnership with the national nonprofit, Junior Achievement, located in its sprawling Camp North End Finance Park facility.
Prior to her time with the GCAA, Graham served as Senior Vice President of Outreach and Fund Development for The Housing Partnership, Inc. (now Dream Key Partners). In this role, she directed the organization's philanthropic efforts, corporate communications, and broad-based community initiatives including faith-based and arts collaboratives, resident leadership development, and neighborhood branding activities. Graham has served as project lead for more than $1.8 million in community stabilization grants to benefit neighborhoods in the Statesville Avenue Corridor. She also coordinated critical partnerships with national and local organizations including NeighborWorks America® and the McColl Center for Art + Innovation. These partnerships have resulted in the first environmental art installations within the 98-acre BrightWalk campus, public art being slated for the Northwest Corridor, and renovations to Anita Stroud and Druid Hills parks.
Additional professional experience includes stints with the North Carolina Parent and Teachers Association serving as the Regional Program Manager for the Parent Involvement Initiative and serving as Public Policy Manager for United Way of Central Carolinas. Earlier Graham worked as a Project Manager for Greer & Walker and the former Arthur Andersen. She also went on to establish her own training firm, as well as a tax solutions firm prior to joining Greer & Walker. Graham has made numerous civic contributions to the Charlotte region including serving on nonprofit boards including SocialServe, the City of Charlotte's Neighborhood Matching Grants Program, NC Business and Education Technology Alliance, Johnson C. Smith University Board of Trustees, Right Moves for Youth, and the Arts & Science Council Basic Operating Grants Panel.
A graduate of Johnson C. Smith University, Graham holds a bachelor of arts in English and also studied public policy abroad as both a Woodrow Wilson and Carnegie Mellon Fellow. She holds a master of public administration from the University of North Carolina at Charlotte with a concentration in urban management and policy. Graham is a member of the International City/County Managers Association and the National Forum for Black Public Administrators.