Announcing New Board Chair: Natalie Brown
---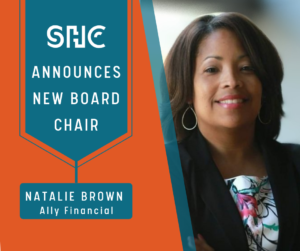 We are excited to announce that Natalie Brown, Director of Corporate Citizenship for Ally Financial as the new Board Chair for Supportive Housing Communities. Natalie has played an active role on the SHC Board of Directors for more than 8 years, in her most recent role as Vice-Chair.  We look forward to continuing working with Natalie to serve our neighbors in the Charlotte community.  Read Natalie's full bio below.
---
Natalie J. Brown joined Ally in 2018 as the Director of Corporate Citizenship in Charlotte, NC, and is responsible for leading a team that manages Ally's charitable giving and community affairs initiatives, while also positioning Ally as a corporate social responsibility leader in the community. She leads Ally's community programming and spearheaded the launch of "Moguls in the Making", an entrepreneurship pitch competition that helps build the next generation of diverse business leaders from HBCUs.
Previously, Natalie worked at Duke Energy as a Diversity and Inclusion Program Manager, where she was responsible for the development of the diversity recruiting strategy, D&I learning solutions, diversity-related executive development programs, and the consultant to the line of businesses D&I councils and the Foundation.
In 2000, she joined Bank of America and held a range of positions in Global Human Resources, Global Supply Chain Management, Global Risk and Compliance, Consumer Banking, and Global Marketing and Community Affairs. Prior to joining Bank of America, she worked for several fortune 500 companies such as Honda of America Manufacturing, Inc., Haworth, Inc., Mercedes-Benz U.S. International, Inc., and International Business Machines (IBM).
Natalie actively promotes the company's commitment to philanthropy and diversity and inclusion, through her work inside and outside of the company. She was recently awarded the "2021 LEADing the Way Awards", one of the highest recognitions an employee can receive at Ally. In 2016, she received The Consortium's Peter C. Thorpe Corporate Leadership Award for her dedication and advocacy to diversity and inclusion. She currently serves on the Board of Directors for several non-profit organizations such as Beds for Kids, Supportive Housing Communities (Chair), T.A.S.T.E. Foundation, UNC Charlotte Women + Girls Research Alliance Advisory Board, and Local Initiatives Support Corporation (LISC) Charlotte Executive Advisory Board. She is also a member of the Charlotte Alumnae Chapter of Delta Sigma Theta Sorority, Inc.
A native of Greensboro, North Carolina, she received her bachelor's degree in Transportation Management from North Carolina Agricultural and Technical State University and currently pursuing her CSR Leadership Certification with Boston College. She is married and has two daughters.